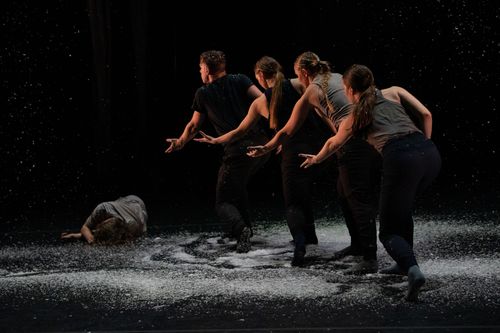 Created by Travis Lake
Premiered on February 11, 2022 at James and Nancy Gaertner Performing Arts Center, Huntsville, Texas, United States
Choreographed and Directed by: Travis Lake
Performers: Aidan Aloma, Reagan Crandall, Tyler Orcutt, Aly Pennington, Allison Wallace
Composition and Sound Design: Travis Lake
Costume Design: Travis Lake, Barry Doss
Lighting Design: Neal Petz
"How does it feel to be broken?" This direct and patronizing question is the backbone of Travis Lake's newest, dark-hued choreographic work. Avalanche dramatizes through its emotionally volatile choreography an unblinking view of one man's harrowing experience with reparative therapy that is both visually and audibly arresting. The piece opens with a character trapped in the throes of panic and distress. After waking in a dark freight elevator, the unfamiliar metal box, or so it appears, violently catapults upward into a menacing abyss. Booming crashes and piercing metal screeches halt as the hydraulic doors open, revealing the show's setting. Where did the elevator lead to? Why is the character there? What is about to happen in a place that provokes such turmoil? These questions are answered throughout a 50-minute choreographic voyage premiering at the James and Nancy Gaertner Performing Arts Center.
 Avalanche explores Lake's ongoing fascination with the symbiotic relationship between conflict and storytelling. Anchored by profound personal struggle, the piece directs viewers through episodes of terror, shame, loss, and survival with unflinching honesty. Five virtuous movement artists bring to life a high-tension script driven by Lake's unrelenting sound score in a game of back-and-forth that refuses to let the debris settle. Narrated by a voiceover, the piece shifts wildly from movement to text, echoing the tormented character's thoughts. Each movement expressed by Lake's physical language resembles a series of stress signals with startling clarity through frame-by-frame exactitude. In one moving moment, the dancers tower over the suffering character with their arms stretched out, offering the possibility of comfort and hope.
 When light appears at the end of the tunnel, the show's second half bursts through the cracks, forging another treacherous landscape. However, conflict is presented in a different light this time around. Placed center stage is eight floor fans arranged in a circle that traps material into vortices, propelling the objects into flight. By imposing order on chaotic airflow systems, the conflicting forces produce a cascade effect like the hypnotic forming of storm clouds folding into one another. In extreme contrast to the first half, the message of the second suggests conflict does not always result in destruction; instead, it can lead to beauty and grace. As does the cycle of conflict, Avalanche progresses through dynamic waves of disruption and serenity. The brute force from the first half of the show transforms into the mind-numbing anguish of post-traumatic stress disorder in the second. When hope for the central character seems lost, the pounding music and choreographic whiplash break to a deafening standstill as tiny snowflakes trickle down softly over the chaotic scene. Avalanche's final moment shows forgiveness to the featured character by fulfilling the classic "...happily ever after" motif. Or does it? One might forget what is happening underneath the light and peaceful snowfall.
AWARDS
American College Dance Association Gala Concert (2022)
Austin Dance Festival (2023)
Barnstorm Dance Fest (2023)